Beet Salad with Charred Red Onion, Goat Cheese & Cocoa Crumble
---
Pairs Well With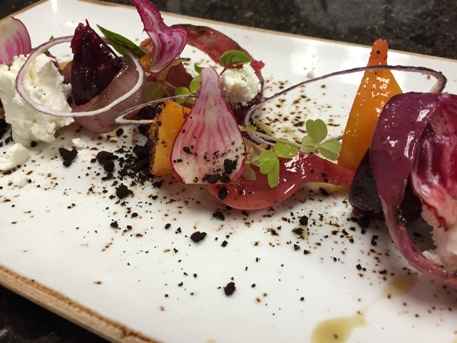 Ingredients
1 pound mixed baby beets
2 bay leaves
2 cloves garlic
2 teaspoons salt
1 tablespoon extra virgin olive oil
2 tablespoons champagne vinegar
3 quarts cold water
Salad topping:
4 ounces fresh Alabama Goat Cheese (or local goat cheese such as Laura Chenel)
Sorrel for garnish
Preparation
Soak the baby beets and scrub with a towel to remove any loose dirt. Combine all other ingredients, except goat cheese and sorrel, in a large stock pot and add the cleaned beets. On medium heat bring to a slow simmer and cook for approx. 20 minutes or until beets can be easily pierced with a paring knife. Cool the beets in their cooking liquid. When cool, peel the beets by rubbing them with a kitchen towel to remove the skin.
Once you have made the vinaigrette, cocoa crumble and charred onions (see below), you can assemble the salad. Slice the beets into different shapes, then place in a mixing bowl. Add the charred onions, and season with salt, pepper and the Dijon vinaigrette. Drizzle some vinaigrette on 4-6 plates, then place the beets and onions on top. Garnish with a crumble of the fresh goat cheese. Break up the cocoa crumble with your fingers and sprinkle around the salad. Garnish with sorrel leaves
Dijon Vinaigrette
Ingredients
3 tablespoons Dijon mustard
3 tablespoons red wine vinegar
Grapeseed oil to taste
Salt to taste
Preparation
Combine Dijon and red wine vinegar in a bowl. Slowly whisk in grapeseed oil to taste and season with salt.
Cocoa Crumble
Ingredients
¼ cup cocoa powder
¼ cup butter
Pinch of salt
Preparation
In a small bowl combine all ingredients to make a paste. Bake on a parchment-lined sheet tray at 225°F till hard. Let cool.
Charred Onions
Ingredients
1 red onion, peeled and sliced into rings
Preparation
Char the onions on a hot grill or in a hot cast iron skillet. Place in a bowl and cover with plastic wrap, let cool. Rub any black char off the onions with your fingers.
---