Fall-Inspired Butternut Squash and Shiitake Enchiladas
---
Pairs Well With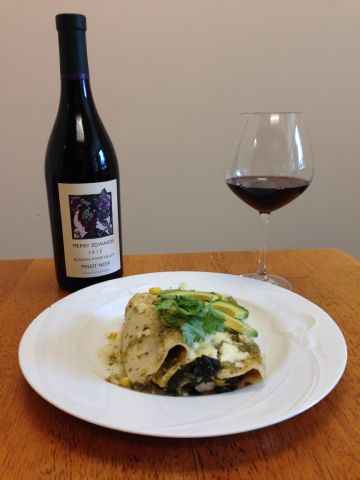 Ingredients
2 cups butternut squash
2 tablespoons extra-virgin olive oil
Salt and freshly ground pepper
1 medium onion, finely chopped
2 shallots, minced
2 cups thinly sliced Shiitake caps
2 cups fresh or frozen corn kernels
2 cups chopped kale
12 corn tortillas
1 cup queso fresco, crumbled
Sliced avocado, chopped cilantro and toasted pumpkin seeds for topping
Preparation
Preheat the oven to 400°F. Peel butternut squash and then dice into ½-inch cubes. Toss in olive oil and season with salt and pepper. Place on a baking sheet lined with tin foil and bake for 15 minutes. Remove from the oven. Reduce oven temperature to 375°F.
Meanwhile, heat 1 tablespoon olive oil in a large skillet. Add the onion and shallots and cook until softened, about 5 minutes. Add the shiitakes and cook until browned, about 5 minutes. Toss in the kale and corn and cook until the kale begins to wilt. Add the squash and season with salt and pepper.
In a large nonstick skillet, heat tortillas one by one for about 10 seconds on each side until they become pliable. Stack together between dampened kitchen towels.
Spoon 1 cup sauce into the bottom of a 9×13-inch glass baking dish. Dip each tortilla into the sauce and spoon even amounts of the squash/mushroom mixture into the tortilla. Wrap and place into baking pan seam side down. Repeat until baking dish is full and spoon 2 cups sauce on top. Sprinkle the queso fresco over the enchiladas and bake at 375°F until bubbly, approximately 25 minutes.
Remove enchiladas from oven and allow to cool for 7-10 minutes. Top with your choice of avocado, cilantro and/or toasted pumpkin seeds. Serve with wild brown rice.
Tomatillo Sauce
Ingredients
2 pounds fresh tomatillos, husked and quartered
1 medium white onion, coarsely chopped
2 garlic cloves, chopped
1 jalapeno, coarsely chopped
2 cups vegetable stock
½ cup chopped cilantro
Salt and freshly ground pepper
Preparation
In a large saucepan combine tomatillos, vegetable stock, onion, garlic and jalapeño. Bring to a simmer and let the vegetables soften for approximately 15 minutes. Transfer mixture to a food processor, add the cilantro and blend until smooth. Season with salt and pepper.
---