Linguine with Manila Clams and Tomatoes
---
Pairs Well With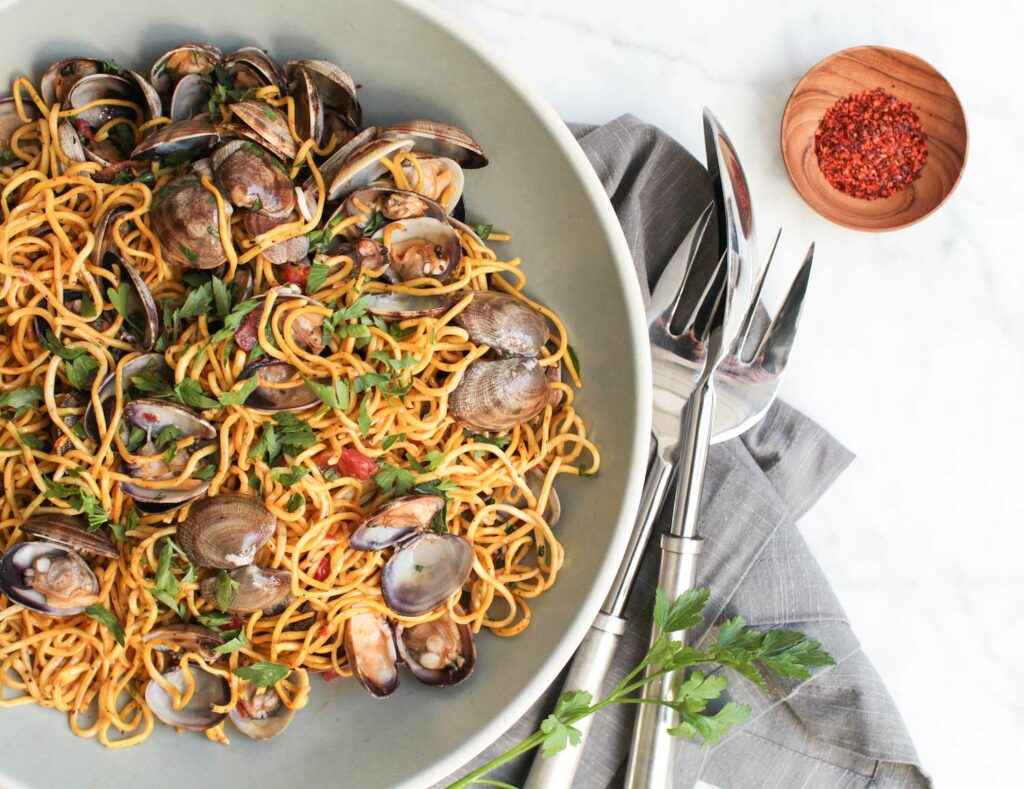 Ingredients
If you're feeling ambitious, Joanne included a recipe for making your own Saffron-Black Pepper Pasta Dough, in place of dry semolina linguine. Make the fresh clam sauce with Merry Edwards Sauvignon Blanc and serve another glass or two alongside!
3 tablespoons extra-virgin olive oil
1 shallot, minced
2 cloves garlic, thinly sliced
¾ cup dry white wine, Sauvignon Blanc
3 pounds Manila clams, or other small clams, washed and scrubbed
½ cup peeled, seeded and chopped tomatoes, fresh or canned
Kosher salt
2 small Calabrian peppers, minced, or a pinch of crushed red pepper flakes
12 ounces dry 100% semolina linguine or batch of Saffron-Black Pepper Pasta (recipe below)
2 tablespoons chopped fresh parsley
Preparation
Warm the olive oil in a large frying pan over medium heat. Add the shallots and cook, stirring occasionally, until soft and translucent. Add the garlic and cook for 1 minute. Increase the heat to high, add the white wine and simmer until reduced by half, 1 to 2 minutes. Reduce the heat to medium, add the clams and tomatoes, cover and cook until the clams open, 3 to 5 minutes. Season with salt if needed. Add the Calabrian peppers and toss together.
Bring a large pot of salted water to a boil. Add the pasta and cook until al dente, 8 to 10 minutes or according to the directions. Drain the pasta and toss immediately with the clam sauce and parsley. Serve immediately.
Saffron-Black Pepper Pasta Dough
Ingredients
3 cups OO flour
½ teaspoon salt
1 tablespoon medium-grind black pepper
¼ teaspoon cayenne
1 teaspoon saffron threads
¼ teaspoon smoked pimenton, sweet
3 whole large eggs
2 yolks
All-purpose flour for dusting
Preparation
Combine the OO flour, salt, pepper, cayenne, saffron and pimento, and place on work surface. Beat the eggs and yolks in a small bowl. Make a well in the center of the flour mixture. Add the eggs into the well. Beat with a fork, bringing the flour in from all sides until the mixture thickens. Use your hands to incorporate the rest of the egg into the flour mixture. Form into a ball but it should not be sticky.

Alternately this can be made in a food processor. If you are making it in a food processor, combine the flour, salt, pepper, cayenne, saffron and pimento in the bowl to the food processor. Pulse a few times to combine. Whisk the whole eggs and egg yolks together. Add the eggs slowly to the dry ingredients only adding enough liquid so that the dough looks crumbly. Do not add so much liquid that the dough forms a ball. If the dough is wet, add more flour. If the dough is dry, add more water, a teaspoon at a time until the dough looks crumbly and holds together when pressed but doesn't feel wet to the touch.

Wrap the dough in plastic wrap loosely and turn the packet over. Press the dough to make a thin ½-inch round. Let rest for 30 minutes at room temperature.

Using a hand crank or electric pasta machine, roll the pasta dough and cut into linguine.

Makes approximately 1 pound of pasta dough.
---