Roasted Pork Belly with Bourbon Brown Sugar Glaze
---
Pairs Well With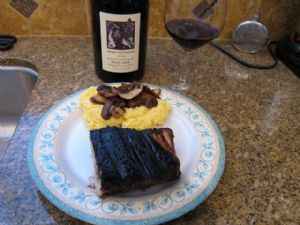 Ingredients
This recipe is based on a 2.5- to 3.5-pound pork belly. Increase or decrease marinade and sauce as needed.
8-12 cloves of garlic, depending on size of cloves and personal taste
1/4 cup olive oil
1/4 cup fresh squeezed lemon juice
1/4 cup cider or wine vinegar (Pedro Ximenez is especially good)
2 tablespoons fresh rosemary
2 tablespoons fresh thyme
2 tablespoons salt
1 tablespoon black pepper
Optional: red pepper flakes or diced hot pepper of your choice, to taste.
Preparation
Place ingredients in food processor and combine. Place pork belly in 1-gallon freezer bag, add marinade to fully cover belly. Refrigerate overnight, occasionally flipping the freezer bag.
Next day:
Preheat oven to 275 degrees. Place pork belly in a dutch oven along with marinade, add water if needed to cover and a knob of butter (about two tablespoons). Cover with lid and cook for six hours. Remove from oven and let sit one hour, until cool.
At this point, you can refrigerate the marinated pork belly for up to two days or place in a vacuum-sealed freezer bag and freeze.
Bourbon Sauce
Ingredients
1/2 cup bourbon
1/2 cup brown sugar
1 teaspoon red pepper flakes
1 tablespoon butter
Preparation
Combine and simmer in a small pan to cook off alcohol. Set aside.
Place pork belly, which will be very tender and ready to fall apart, in a grill basket. Place skin side down over a medium flame for about 15 minutes or until the skin is crispy. Flip and coat skin with bourbon sauce. Flip again in 7-10 minutes and coat again with bourbon sauce. Grill five more minutes and cover with remaining bourbon sauce. Cut into serving-size pieces.
---