Roasted Sunchoke Bisque
---
Pairs Well With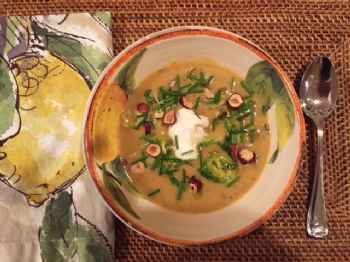 Ingredients
1½ pounds sunchokes, well-scrubbed
About 5 tablespoons olive oil
¼ teaspoon each sea salt and white pepper
1 large shallot, finely chopped
3 large cloves garlic, mashed
1 can (13.5 ounces) light coconut milk
1 quart low-sodium vegetable broth
1¼ cups thinly sliced Brussels sprouts
6 tablespoons chopped hazelnuts
8 ounces crème fraîche, divided
Handful of fresh chives, chopped
Truffle oil for garnish
Preparation
Heat oven to 375°F. Place chopped hazelnuts on baking sheet and toast for about 5 minutes or until lightly browned. Remove and set aside to cool.
Increase oven heat to 400°F. Coarsely chop sunchokes into approximately ¾-inch dice. Divide evenly onto two baking sheets. Drizzle each with about 1 tablespoon olive oil and 1/8 teaspoon salt. Toss well to coat thoroughly and spread out on sheet. Roast sunchokes until tender, about 20 minutes.
Meanwhile, heat 1 tablespoon olive oil in a large pot over low heat. Add shallot and garlic; cook, stirring frequently, until softened but not brown, about 2-3 minutes. Stir in coconut milk and vegetable broth – increase heat to medium-high and bring to a simmer.
Heat the remaining oil in a large frying pan over medium-low heat. Cook Brussels sprouts, stirring occasionally, until softened and starting to brown, about 4 minutes.
Transfer roasted sunchokes to pot of broth. Cook to blend flavors for about 15 minutes. Transfer mixture to blender in small batches, blending broth and sunchokes until smooth. (Take care with blending, as mixture will be hot.) Return to pot, warming gently. Stir in 4 ounces crème fraiche until fully incorporated.
Ladle into 6 bowls. Garnish each with a dollop of crème fraîche, some Brussels sprouts, chopped chives and a drizzle of truffle oil.
---