Tuscan Chicken
---
Pairs Well With
Ingredients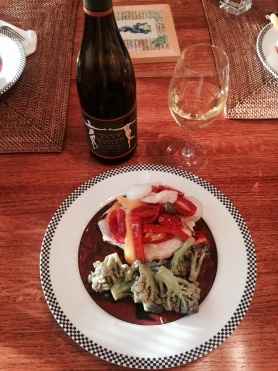 6 skinless, boneless chicken breasts, sliced thinly as for scaloppini
¼ cup + 2 tablespoons olive oil
16 cipollini onions
1 red pepper, thinly sliced
1 orange pepper, thinly sliced
1 yellow pepper, thinly sliced
2 fennel bulbs, sliced paper-thin crosswise
1 large sweet onion (Walla Walla), diced
4 cloves garlic, smashed
½ teaspoon pepper
½ teaspoon alaea salt
14 ounces grape tomatoes, sliced in half, lengthwise
¼ pound caper berries (see note)
8 tablespoons melted butter
¼ cup chicken broth
¼ cup chardonnay
Note: Caper berries are not interchangeable with capers. They are about the size of an olive and have a less intense flavor than capers.
Directions
Lightly sauté chicken breasts on both sides in ¼ cup of olive oil, a few at a time. They should just turn white and still be very rare in the center. Set aside.
Blanch the cipollini onions for about 2 minutes, remove the skins and set aside. Blanch all the sliced peppers in the same water; then chill in ice water, drain and set aside. Sauté fennel in 2 remaining tablespoons of olive oil until transparent. Set aside.
Preheat oven to 375°F. Compose ingredients in a large Pyrex baking dish, approximately 9×14 inches. Start with a layer of chicken breast. Top with peppers, both types of onions and fennel. Sprinkle with garlic, salt & pepper. Scatter with tomatoes and caper berries. Top with second layer of chicken. Mix together butter, broth and wine, and pour over composed dish. Bake for about 30 minutes until chicken is just cooked and vegetables are warmed through.
Serve with steamed yellow potatoes and a fresh spinach salad. Toss the salad with toasted pine nuts, chopped hard-boiled egg and mustard-lemon vinaigrette.
---