Wild Mushroom Turnovers
---
Pairs Well With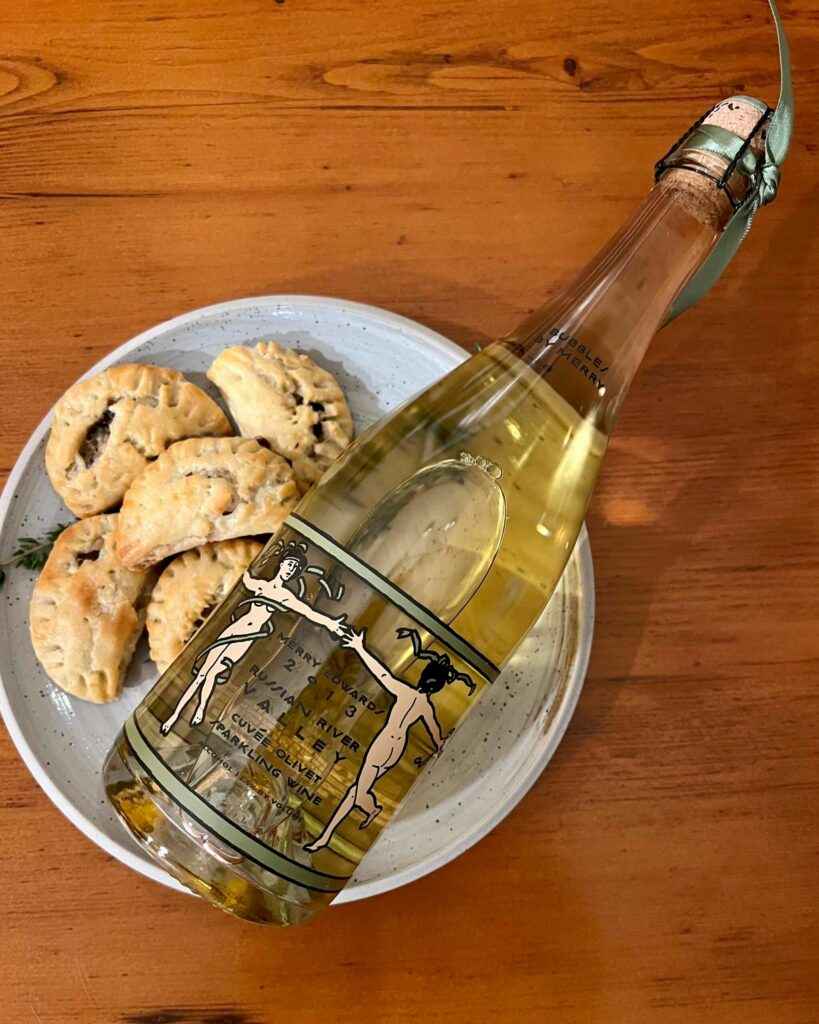 Filling
Ingredients
2 tablespoons butter
¾ pound fresh mushrooms, finely chopped (use a combination such as trumpet royale, maitake and oyster)
1/8 teaspoon dried thyme
¼ teaspoon sea salt
½ teaspoon freshly ground black pepper
1½ teaspoons all-purpose flour
½ cup sour cream
1 ounce grated gruyère cheese
2 tablespoons vermouth
1 egg yolk whisked with 1 tablespoon water, for brushing on pastry
Preparation
Melt butter in large skillet. Add mushrooms, onion, thyme, salt and pepper. Sauté over low heat, stirring constantly until mushrooms are tender and moisture has been removed — about 20 minutes. Sprinkle flour over ingredients to avoid lumps; stir to thicken. Add sour cream and vermouth. Heat just until thickened; remove from heat and stir in gruyère. Mixture should not be runny, but should hold its shape.
Assembly
Preheat oven to 350°F. On a lightly floured surface, roll dough to less than ¼ inch thickness; cut into 2½-inch-inch rounds using cookie cutter. Place about ½ teaspoon of filling in the middle of each circle; using pastry brush, moisten inside edge of each pastry circle. Fold dough over filling to form half circles; press with fingers or a fork to seal edges.
Place on cookie sheets lined with parchment paper and puncture each to allow steam to escape. Brush with egg yolk; bake for about 12 minutes or until golden brown.
Alternatively, after brushing with egg yolk, the pastries may be frozen on the cookie sheet or packaged in Ziploc bags for longer term freezing. When ready to bake, place on parchment-lined cookie sheets and bake frozen at 400°F for 15-18 minutes.
Simply scrumptious!
Pastry
Ingredients
1 8-ounce package cold cream cheese, cubed (use high-quality brand)
1 cup cold butter, cubed
1½ cups all-purpose flour
Preparation
Mix cream cheese and butter. Add flour until fully incorporated; shape into a ball and refrigerate.
---